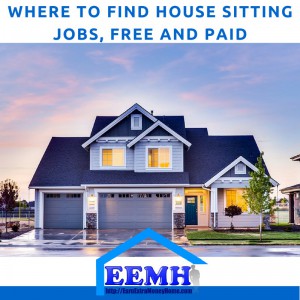 Many people around the world, have jobs that make them leave their homes for extended periods of time.  Sometimes people take extended vacations.  During these times they need someone to watch their home or even pets.  What if I told you that you could make some money helping these people out?  That is right, you can make money by house sitting. Imagine you could travel the world and stay in great locations.  Some of these locations you could stay in for free, others you could actually get paid to stay in.  Where can you find house sitting jobs? That is what we are going to talk about in this post.
What is House Sitting? 
---
Honestly, I did go over it a bit above.  There really is a bit more to it than that though.
When I was growing up if you had to leave town you would have a friend or family member swing by once or twice a day to pick up the mail, water the plants, feed your pets and make sure everything is in good order.
While some people still do this, things have been changing as of late.  Many people don't want to bother their friends or family.  Sometimes people don't live close to their families.  This is where the house-sitter comes in.
The house sitter may or may not get paid, more on getting paid a bit later.  For now, I want to talk about the housesitting for free.  Why would people do this?  Simple.  If you want to travel to a location and want to save money on hotel expenses, why not just house sit.
This gives you the opportunity to stay in a good location, most of the time, for free or virtually free.  Depending how long your stay is, you may have to share the utilities of the place you are staying at.  One thing you will need to remember that it is not a hotel.  You will need to get the mail and maybe feed pets and water plants.  In general, the things you need to do take a minimal amount of time.  Especially if you are doing it for free.
Where to Find Housesitting Opportunities? 
---
There are many sites online that help match people who need house sitters with people looking for places to stay.  I have listed a few of them below along with their annual fees.  Yes, there are fees, but even if you only house sit for one week a year, the cost of staying at that place per night is ridiculously low.  Even if you purchase memberships to all of the places listed below.
Websites and Annual Fees
Trusted Hose Sitters        $119
Mind My House                $20
Nomador                             $89
(limited free membership also available for Nomador)
What Requirements are there to be a House Sitter? 
---
There are not many requirements to be a house sitter.  First, you should have a criminal free background, a way to get to the location, and typically some references.
You can get some references from friends and family members to get you started.
Many people prefer sitters that are in their 40s or older because they tend to be more responsible.  If you are younger that shouldn't stop you from being a sitter.  Your references will need to show your maturity.
How much can a House Sitter Make? 
---
This really depends on many factors.  Most jobs housesitting you can make between $20 to $50 a day.  Some can pay as much as $200 a day.
Obviously the more you are required to do the more you would get paid. For the basic purpose if you are taking care of a single pet, picking up mail, and staying at the location it can range from $20 to $50 per day. The $200 a day would be multiple pets, cleaning duties, grounds keeping and more, just to give you an idea.
You can also find paid jobs here.  You will need to look around a bit, but you might even find a new location to live for an extended period of time.
My Final Thought about Housesitting 
---
This can be something you can do to make money or save a lot of money. You can even make a job of it.  Some people are known to not own a home themselves.  They just use the housesitting as their room and then save the money they would pay on rent.
If you chose to start a house-sitting business, make sure you do it the right way.  Set up a business entity, get the licenses, bonding, and insurance. This not only gives your clients the peace of mind but protects you.
Housesitting can be a way for you to make some extra money, travel the world, or even a lifestyle.  Whatever you choose, just make sure it's right for you.  Something that would work great with housesitting is an online business.  You can read about how I learned to make money online with my top recommendation here.
Have you ever been a house sitter?  Please leave some pros and cons below in the comments we love to hear them.