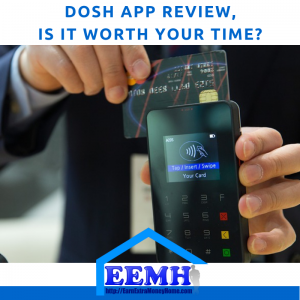 I have recently done reviews on Ebates and Paribus.  Both of which are good programs where you can earn a little extra money for shopping.  So, I figured this would be a good time to write about Dosh.  In this Dosh app review, I will go over the good things, the bad things, and what it is all about.
What is Dosh? 
---
Dosh is an app that shows you specials that you can get in your area. It works very well in larger cities as there are more opportunities.  The app first hit the market in April of 2017 and has been growing since. It was started by Ryan Wuerch who also started Solavei, an MLM company.
The idea is you link your credit card to the app and then shop at participating stores.  When you shop at these stores and use your credit card you accrue 1-10% cash back that builds in an account.  The participating stores are major brands, merchants and hotels.
You can imagine if you do a lot of traveling and stay in hotels these rewards add up quickly.  There is a small threshold of $25 before you can withdraw the money.  Once you reach that threshold you can send it to your bank, Paypal account, or even donate to your favorite charitable organization.
There are really many different participating merchants including but not limited to: Hilton, Marriot, Walmart, AutoZone, Alamo, Dickeys, Wendy's, Jiffy Lube, and really many more.
Even when you get started you get your first $5 for linking your first credit card.  You also get an additional $1 for each additional credit card or debit card you link.
The Good Things About Dosh 
---
It is really a set and forget application.  You need to set it up and link a credit card.  Then you just have to use that credit card when you make purchases.
You can get benefits even when you travel outside of the United States.  The way you do this is to book your hotel and rental car through your credit card.  Having traveled extensively all around the world I can only imagine what I could have gotten back from my hotels if I had this app even 5 years ago.
You can also get referral bonuses if you refer your friends.  (I am currently living in Asia, so if you join, I will not get any bonus. Don't let that stop you) These referral bonuses can range from $5 to $15.  You can also get refer a business and get 20% of the fees for 2 years.

The Complaints about Dash 
---
The number one complaint is that it is only available in the United States.  This is why I currently do not have it on my phone.  I did have some friends and family in the states try out the app and this is how I could do the review.
Another big complaint with Dosh is if you have a credit card that is linked to another such a program, it may not work.  This, of course, can create an issue if you have other like services that you linked a credit card too.
How to Join? 
---
This program is simple to join.  All you need to do is go to Google Play, or The Apple Store, and download for free.  Then sign up.  You will need to verify a US phone number.  To finish it all off you just need to link your credit card.  You will then see all the offers from the different merchants that are close to you.  Therefore, it does tend to work better in larger cities, but it still works well in smaller cities.
My Final Opinion of Dosh App 
---
Dosh is a great way to get cash back from using your credit card.  This really works well if you do a fair amount of traveling.  The money is available to withdraw as soon as you hit the $25 threshold. My opinion of Dosh App in this review is quite favorable overall.  This is again one of those reviews I have done that I get no compensation for, I just felt it would benefit my readers.
This is not a way to really earn money, but instead to save money and get some money back for purchases that you were already going to make.  If you want to learn how I learned to make money online, you should check out my top recommendation, Wealthy Affiliate.
Please let us know if you have used Dosh and how it worked for you below.  Thank you.