Name:  User Testing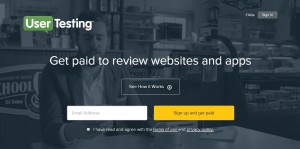 Website: www.usertesting.com
Price: Free
Overall Rank: 8/10
User Testing, Overview
---
Is User Testing a scam?  I have been using it for a while and this my review.
This is one of those very simple to use programs.  The idea is that people have their websites reviewed by you an end user.  They take a screen-cast video of what you are doing and a recording of what you are saying and they pay you for your time.  Test take no longer than 20 min.  Each Test they will pay you $10.00.  They also have a shorter test that is 3-5 minutes long and they will pay you $3.00 per user testing peek test.  Some test are designed to run longer but those tests will pay you extra.
Let me state this right up front.  You are not going to get rich from this program.  You are not going to build a sustainable business from this program.  But I like this program to earn a few extra dollars each month.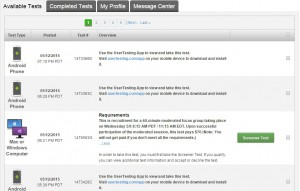 The Good and the Bad
---
Good
While some tests you still need to go through a screener, the screener here is typically only 2-5 questions.  So you are not wasting a lot of time only to find out that you don't qualify for the test.  I know this is my biggest gripe with paid survey sites.  You start a survey and you spend 15 minutes answering questions only to find out that you did not qualify for the survey.  This does not happen here.
You get paid into your Paypal account exactly 7 days to the second from completing your test.  I have been using the site for about a year now.  The site has never missed the mark on this promise they make.
As I said earlier you are not going to get rich on this program.  I normally make about $50 a month on this website.  Enough to pay for an auto-responder or even enough for a meal out a month.  The most I have made on the site in one month has been $200.00.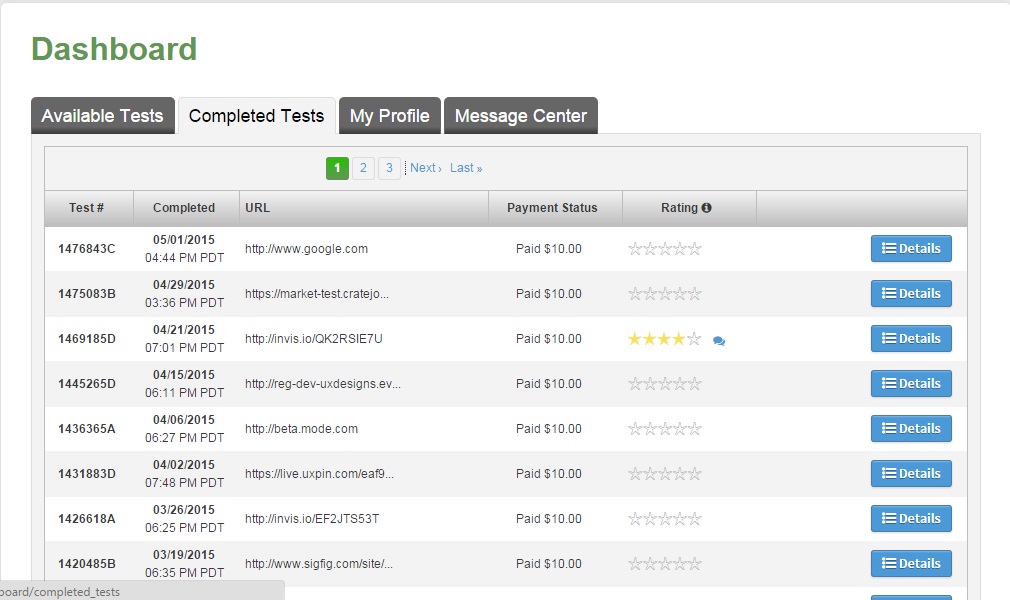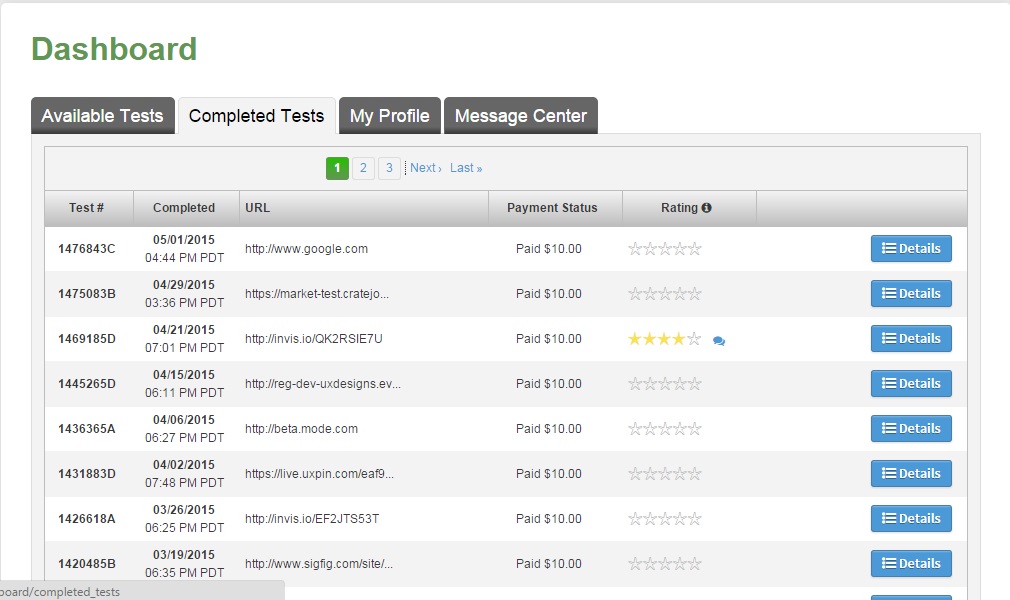 Bad
---
It takes a little while to get used to taking the tests.  The first few you have no idea what you are doing.  The key is to just keep talking about what you see and what your thoughts are about the website.  After about 3 tests you get used to the program and everything runs smoothly.
You need to be quick about clicking on a new test or someone else will get it.  I run the website in the background on my computer while I am doing other work.  When I hear it "ding" I then go to the page and click the test if I want to take it.  Sometimes it will say we have completed the amount of tests requested.  This is a bit troublesome at times as you think yeah I got another $10 coming in, but you get used to it.
One final negative thing you must reside in a country that can accepts Paypal payments.  You can get around this using a VPN though.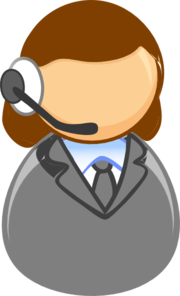 Customer Support
---
They do have Customer Service by toll free number from 8AM to 5PM PST, Monday through Friday.  So it is not an issue for most users.  They also have email support and response time is good with that as well.
Who is User Testing For?
---
This is for anyone who wants to make a few extra dollars a month.  I used it to cover my initial expenses when setting up a new website, a membership fee or even an auto-responder.

User Testing Price
---
It does not cost a bit to become a tester.  That is the best part.  This is a free one.
My Final Opinion of User Testing
---
This is a great product to cover the costs of a new online venture, a monthly membership to somewhere or something, or even a dinner or a movie once a month.  It really does not take long.  Just remember it will not replace your normal income, just a way to make a few extra bucks.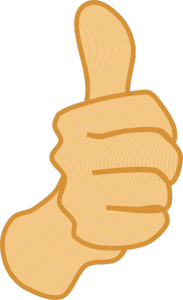 Final Verdict Legit 8/10
While this program is not going to get you rich or a sustainable income online, you will make some extra cash each month.  As I always say, every little bit helps.  If you are looking for a way to build an online business check you my review on Digital Altitude, Wealthy Affiliates, Affiloramma, and Clickbank University.
If you have any of your own personal experience, comments or questions; please leave them below.