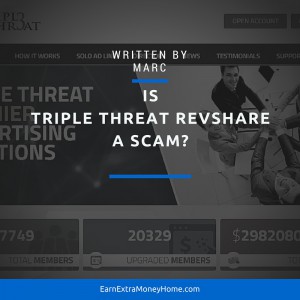 Name: Triple Threat Revshare
Website: www.triplethr3at.net
Price: $10.00 membership + ad shares $3-$50
Owner(s): Troy Fobbs and Ray Scott
Overall Rank: 3/10

Triple Threat Revshare Review
---
This program is a Revshare program and also goes by the name of Triple Threat Marketing.  The idea is you pay for advertising space.  That ad space also comes with company revenue sharing.  Meaning you get a pack for $3.  The company then shares their revenues with you up to 120% of the $3, or $3.60.  To qualify for the funds you must surf 10 ads on their system in 24 hours.
They also have a solo ad program that repays the revenues they earn as well. I have to say I have not tried their solo ad program.  I decided to try the revshare program first to see if it was legit or not.  The ad packs start at $3.  You can have up to 150 $3 shares. They have multiple tiers including, $7 ad shares, $15 ad shares, $30 ad shares, and $50 ad shares.
The Good and the Bad
---
Good
They have made it past 6 months as an active Revshare.  Most reshares die within 6 months
They are constantly changing to try to improve the system
They are one of the quickest returning revshares out there.
Millions have been paid out on the system.
Bad
They keep changing the rules on the system.
Currently they are behind on payments by about 1 month.
They are implementing a weekly subscription of $10 to get paid.
They have cleared the pending payments list once in the past 2 months and refunded (back to the account balance not to paid).
They are currently discussing refunding all payments back to the account balance again.
Members get kicked out of the Facebook group if they make a negative post.
The traffic you get from this program is low quality.
I am currently a member.  I have over $300 in pending withdraws.  I have never been paid. If I get paid I will update my review. If the changes they are making actually work and the system improves I will also update my review.
The owners are having serious issues at this time with this revshare program.  Troy Fobbs and Ray Scott are starting another revshare program called Shares that Care.  My suggestions is that they fix one revshare before starting another one.
Customer Support
---
I have a couple of times sent a request into customer support and never received a response even after more than a month.  So in my opinion it does not exist.
Who is Triple Threat Marketing For?
---
Right at this time I have a hard time recommending anyone to this program.  Maybe someday they will fix the issues and I can change my assessment, but I am not holding my breath.
Triple Threat Revshare Price
---
Currently $10 a month for membership.  Shares start at $3 and go up to $50 each.  Max withdraw is $50 a day without any referrals.  To withdraw more you must have more than 10 "active" referrals.  They are getting ready to make a change to the system.  This change will mean there is WEEKLY $10 membership in order to withdraw funds.
My Final Opinion of Triple Threat Revshare
---
This is not a program that I can recommend at this time.  Too Unstable, too many issues with it.  If you are interested in revshares I would suggest trying out free systems so you can learn how they work and the best way to utilize the low quality traffic you will get.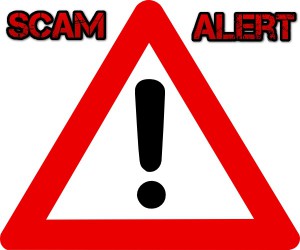 Scam 3/10

If you are serious about making money online and want to build a successful business then you really should look at my top recommendation.  It takes more than one thing to be successful online.  There is a list of everything that I found that helped me along the way with all my recommendations.
Have a comment, question, or your own personal experience with the product?  Please leave it below, I love to hear from my readers.
Disclaimer:
When you buy something from this website, I may receive an affiliate commission. These are my opinions and are not representative of the companies that create these products. My reviews are based on my personal own experience and research. I never recommend poor quality products, or create false reviews to make sales. It is my intention to explain products so you can make an informed decision on which ones suit your needs best.