My last post was about Google Webmaster tools.  You have your Webmaster Tools all set up so now I know you are asking, "Why should I use Google Analytics?" My answer is it that Google Analytics is yet another customer connection tool.  What does that mean?  Well In order to have a successful website you need to connect with your audience.  Google Analytics shows you how successful you are with driving traffic to your website and allows you to track over time what is working and not working for you.

Now we get even more in depth with analytics.  To do that we need Google Analytics and link our Webmaster tools to it for the best results.  Just like the webmaster tools it takes some time to get any relevant information.  So setting it up early in your creation of the website is a good idea.  You can then track how your website grows overtime.  What pages people are coming into, where they are leaving your website, how long they are staying on your website, and much, much more.
This tool is another one of those must have things for any website owner.  Just like their Webmaster Tools, Google Analytics is free.  They do have a premium version but to be honest I have never used it.  I feel the standard version is just perfect for my needs.
Getting Started
---
Well just like anything else with Google you need to sign up for their service.  Go to Google Analytics and sign up for an account.  Really it is just like any other sign up.  The best part is that it is a free tool from Google.  Once you are signed up you need to add your website.  You can do this under the Admin menu at the top of the page.
Once you click on the admin menu you will see the account administration name on the left had side with additional menus that include; Account settings, User Management, All Filters, Change History and Trash Can.  Just to the right of that you will see another column named Property.  It will list all your properties(websites) that you have already added to the tool.  Okay now click on the down arrow and on the "create new property" button.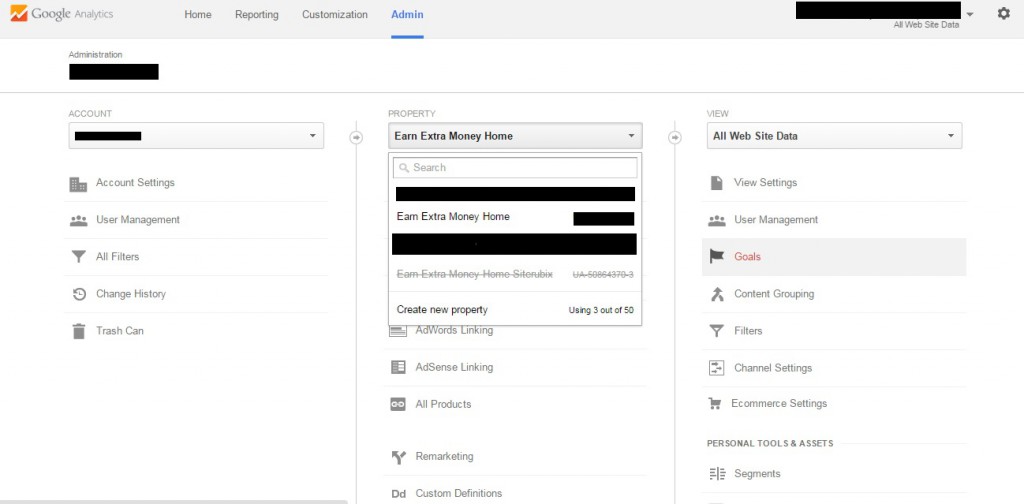 Enter you website name and the URL of the website.  You can also add the industry category and the reporting time zone but it really is not required.  Once that is done click on the Get tracking ID.  It will then take you to another page at the top of the page it will show you the "tracking ID".  It normally starts with a UA.  Do not share this ID number with anyone that you don't want to have access to your data.
Once you have this tracking ID it is easy to use.  If you understand coding you can place the tracking code on every page you wish to track.  If you don't know coding I am guessing you are probably using something like WordPress.
How to Add Google Analytics to WordPress
---
I don't know coding all that well, so I use WordPress. I also use the plugin called All in One SEO.  It makes it all so very simple.  If you already have All in One SEO go to the general settings and scroll down the page until you see the Google Settings  Box.  Input the code where it says Google Analytics ID.  It is best to copy and paste it.  Then click the Connect with Google Analytics Button.  It will then ask you if it is okay to allow All in One SEO to access your Google Analytics account.  You need to click yes.  Once that is done it will bring you back to your administration on your website.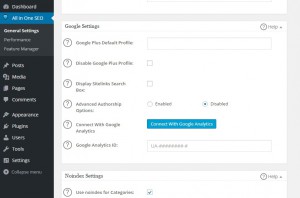 You are all done setting up your google Analytics.  Not really that tough now is it.  But wait, the tough part is just beginning.  Now you need to wait a week or more and you will start seeing your traffic show up in the dashboard on your Google Analytics account.  The real point of all of this data is so that you know how to increase your rankings.  A great place to see your actual rankings for search engines is Jaaxy.com take a look at my review.
Supercharge Your Analytics
---
Instead of just stopping there, I like to supercharge my analytics by connecting tools with analytics and taking those results and using Jaaxy site ranking tool to help bring my rankings up.  How do you connect Google Webmaster Tools with Google Analytics?  This is another not so hard thing to do, especially if you have done it once before.  On your Google Analytics Admin screen product linking click "all products" button; that will bring you to another screen. You will then see Webmaster Tools Site click edit.  From here you just click on the website you would like to associate to that account.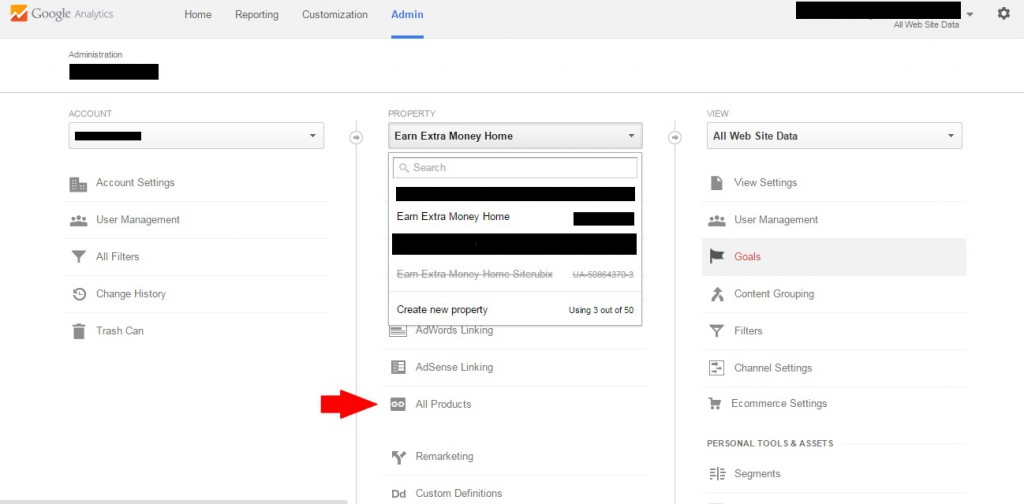 Once again you are done.  Now you will get some of the information from Google Webmaster Tools available on your Google Analytics account.  You can do SEO with quarry search to see what people are looking for and how they get to your account.  Using the Jaaxy site you can chose keywords you want to rank better for, make small changes to the website and wait another week, then see where you rank at that time. If you haven't tried Jaaxy then you can try for 30 free searches.
You can find out what pages most people are looking at, the pages they leave your site from and much more. If you have Google AdSense you can also add that to the analytics.  Finally for those pesky PPC campaigns as you gain knowledge you can even link that information to your Analytics page.  All of this is used so that you may have a better customer experience.  The better the customer experience the longer they will stay on your site.  The longer they are on your site the higher your rankings with the search engines becomes and in turn the more traffic you will get.
If you really want to learn just about everything on building an online business, I would suggest giving my top recommendation a look.  Online business takes more than just one thing to make it work.  So I have listed some of the things that have worked for me at all of my recommendations.
If you have any further questions or comments please leave them below.  I enjoy hearing your comments.