I said it before I will say it again e-Commerce is a booming business model.  You want to get in the boom, well you might want to look at this T-REXecom review to find out if it is going extinct like the dinosaurs or if it will be a new king.
There are several things that brought me to T-Rex E-commerce and TRex Mega Store.  First of all, I was looking for Shopify alternatives.  This could be a simple solution and possibly take care of some of the downfalls that Shopify itself has including the need to have several plugins to make it really run nicely. 

What is T-REXecom?
---
TREXecom is an eCommerce platform that helps you build an online shop with ease.  There are many features that can skyrocket your earnings and they keep building new ones.  For example, they now have a TREX MEGA Store Platform (only available from September 21-28).  More on that in a moment.
TREXecom Features
---
Mobile Commerce Ready
Today more people use their mobile phones and tablets to shop than ever before.  You want to make sure your shop has the ability to properly service those customers.  This platform allows just that.
Professional Niche Theme
Having a great Niche Themed store can make the difference in getting that sale and not getting a sale.  You definitely don't want your store to look like a 3-year-old made it, so make sure you have a proper professional looking site.
Your Own Domain Name
Brand yourself.  Having your own domain name is a great way to set yourself apart from the competition.  If you just want to try things out you can always use a TREXecom subdomain, but I would suggest to go ahead and buy a domain at first.  You can find them at Namecheap for around $10 a year.
Full Blogging Platform
Blogging is an awesome way to drive organic (FREE) traffic to your site.  That means no advertising for it.  I would suggest doing both this and advertising though, to build your brand.
Hosting Included
SSL Cert and hosting is included on this platform.  This allows you to accept credit cards, PayPal, Stripe and more.  With the SSL Cert, it will also help build the confidence of your customers.
Accept Credit Card
So you want to get paid for your hard work, don't worry you can integrate Stripe, PayPal, accept credit cards and more.  These are the gateways your customers expect and you can give it to them.
Automatic Fulfillment
One of the best features included in this product is the automatic fulfillment.  This means that as soon as an order is placed you don't have to do a thing.  The shipper is notified and out goes the product.  Talk about a time saver.
Abandoned Checkout Recovery
When a customer abandons a shopping cart they are sent an email automatically to see if they still want the products.  This built in follow-up system can greatly increase your sales.
Drop Shipping
Most people have heard about drop shipping and wanted to get in the game.  Finding reputable wholesalers that have quality products can be an issue when you are first starting out. TREXecom has their own company that drop-ships directly from the US.  So, your products will arrive quickly and without hassle.
If you already have your own suppliers from Salehoo, or would rather work with your Aliexpress accounts, don't worry.  You can integrate your sales with a csv file to automatically be sent at the end of the day to the supplier.  Once again nothing to really do but make sure the payment is made.
Branding
The supplier on the system can also help you with branding.  You can have T-shirt give-a-ways and more to help spread your brand.  After all, when your brand awareness grows so do your sales.
Email Marketing
One of the most neglected parts of e-commerce is failing to utilize email marketing.  This alone can build your profits very quickly.  You can send up to 10,000 emails a month directly from the system. No other auto responders needed.
Utilize Facebook
Integrates into social media like you have never seen.  You can customize Facebook ads, optimize surveys and more!  Facebook is the king of the E-commerce Advertising world.
Training
Want training to make the most of your shop the quickest?  Guess what they have live "ask the experts" webinars two times a week.  Don't want to wait, you can still access other training to get you up and running quickly and effectively.
Pros and Cons
---
Good
This is truly a huge competitor for Shopify.  They have taken the basic idea and expanded it with more inclusions that Shopify offers.  All the features are wonderful and build in a way that allows you to make the most out of your store in the shortest amount of time.
The system is very user-friendly and you can quickly create, source, and sell products on your store. Not only that but you can set up the system to auto-respond to abandoned carts without adding any additional layers.
Easily integrating credit cards, PayPal and Stripe goes a long way in allowing you to maximize your shop's earning potential.
They have their own supplier located in the states.  This allows easy integration with the system and also allows quick and hassle-free shipping.  This means no more waiting 3 weeks or more for poor quality products.
Even more, if you have your own products, you can contact them and you can have them fulfill your orders for you as well.  Think of FBA model and you get the just.
Even if you are a complete beginner and don't know where to start they have amazing training and continual training.  Two times a week they handle a questions and answers webinar to help train you. That is beyond their normal training within the system itself.  Check out this case study to see more of what you can expect.
Bad
So far, I have talked about how great the platform is.  So, are there any drawbacks on the program itself?  Of course, there are, but not really that many.  The sheer number of things the system can do might be a bit overwhelming at first.  But that can be quickly overcome and really there is only a small learning curve.
If you want to use your own supplier you will need to do a little more work than if you only use their suppliers.  If you use the suppliers from TREXecom then you just let the system do 99% of the fulfillment work.  If you use your own you may have to do some more work making sure everything is paid and your supplier accepts csv files.
How Much does TRex Ecom Cost
---
There are four different levels you can purchase; Basic T-REXecom for $67/month, Premium T-REXecom for $97/month, Advanced T-REXecom for $897 per year, and Mater T-REXecom for $997 one time -$297 per year.  To see the difference between all of these I have included a little graph here.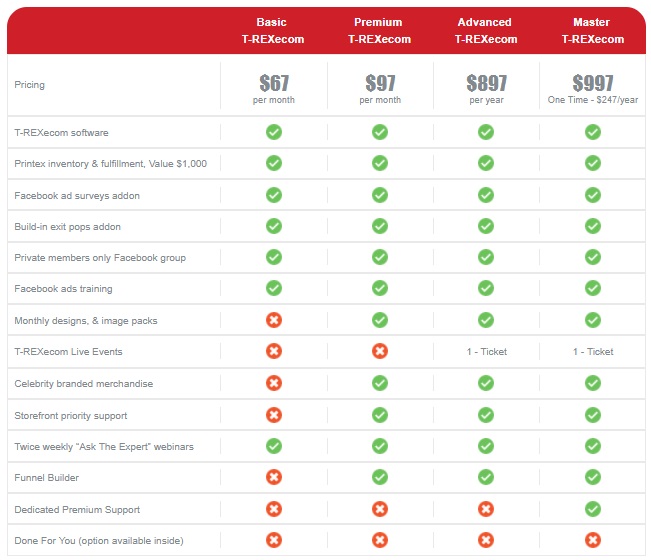 Customer Service
---
The customer service is some of the best I have seen.  Not only do they have very knowledgeable staff members but you can also contact the owners themselves.  They are very helpful and want to see you succeed!
Who is TRex E-commerce for?
---
There is so much you can do on this ecommerce platform.  Sometimes it is hard to sort out.  Even with that in mind, this is for anyone who wants to start an online store and have all the tools they need to succeed.
This program is built for beginners and experts in mind.  Anyone can benefit from the use of it.  The price point is perfect as well.
TRex Ecom Alternatives
---
So all of this is has been geared toward TRex Ecom.  It is no mystery that I liked it, but there are alternatives to it.  The most popular alternatives are Shopify, WooCommerce, BigCommerce, LemonStand, Wix, and Magento.  While I have heard good things about Wix and know about BigCommerce, LemonStand, and Magento, I have not used them so I cannot comment on them directly.
I have, however, used WooCommerce.  This is a great alternative if you don't mind piecing your site together on a WordPress platform.  You can make the site just as functional as a Shopify store, but you will need to work on the site a lot longer to get it up and running as nicely as you would have on Shopify.  You might also need some coding skills to get it just right.
I have also used Shopify with my wife.  To tell you the truth I really did like it, you can read my full review of Shopify here to make a better-informed decision.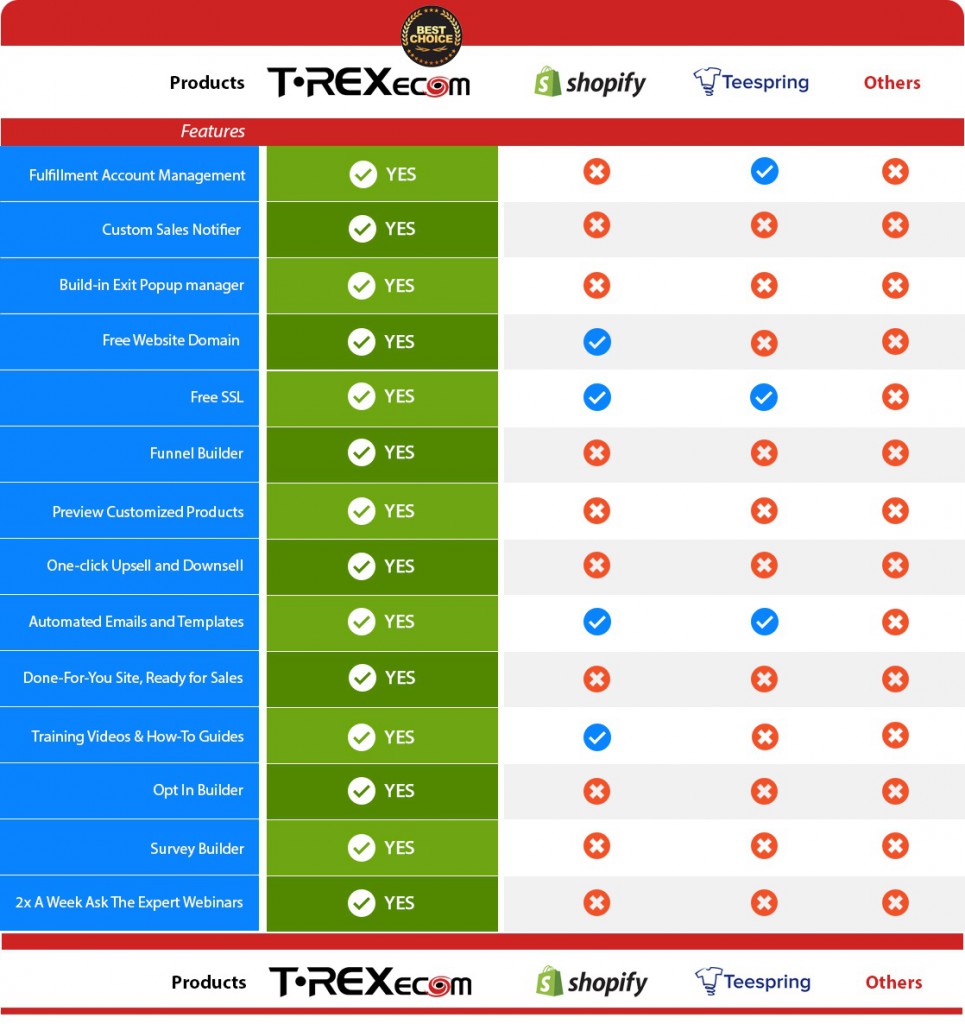 One more thing to mention here is due to the fact they have their own supplier which you can use they have other competitors including Teespring for apparel. You can see a good comparison in the graph above.
What is TREX MEGA Store?
---
Okay, I mentioned this in the beginning of this page. TREX MEGA Store is a done for you solution.  I mean everything done for you.  Does that mean that you need to do zero work?  No, you still need to do your advertising.  Think of it like buying a store with all the inventory in a mall.  That is what it is.  You are buying the done for you store.  You still need to get the work done though.  This is a limited time offer only lasting from September 20, 2017, through September 28, 2017.  Then the doors close forever on that deal.
If you want to know more and don't want to miss the boat sign up to my newsletter at the top of this page.  Starting September 12 you can find out so much more about it.  I will be sending out all kinds of information to help you make the right decision.
My Final Opinion on TRex Ecommerce Platform
---
I have been rambling on for a while now about this system.  I hope you have found it informative and you should know what I think about it by this time as well.  I have said that there are alternatives to Shopify.  I think this is a platform that does all of the things that Shopify does and more.
Don't misunderstand me you still need to do your homework, research, and place ads to drive traffic, but I really love this system.  While they do not have a free trial, they do have a 30 day, no questions asked 100% money back guarantee.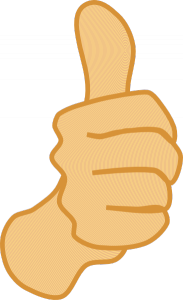 If you have been on the fence about starting an ecommerce store or just couldn't find quality goods to sell this is the solution for you.  Give it a try now, you have nothing to lose!
I understand that ecommerce isn't for everyone.  Here at Earn Extra Money Home, we want to see you succeed.  You can check out my top recommendations here. If you have any questions or comments about T-REXecom please list them below and I will be happy to answer you!
Disclaimer:
When you buy something from this website, I may receive an affiliate commission. These are my opinions and are not representative of the companies that create these products. My reviews are based on my personal own experience and research. I never recommend poor quality products or create false reviews to make sales. It is my intention to explain products so you can make an informed decision on which ones suit your needs best.