Wealthy Affiliate now has FREE https included with their premium membership.  As the title says so what does that mean?  Well it means a few things.  First off it gives you extra protection and allows you to set up your own store and sell things directly from your site.  Let's not get ahead of ourselves though.

What is Https?
Https stands for Hyper Text Transfer Protocol Secure.  You see Http in front of many websites out there.  It really stands for hyper text transfer protocol.  Well you can guess that https is really the same thing as http but it is "secure" and if you guessed that you would be right.
So Why is Https Important?
There are a couple of reasons you might want to use https vs http.  First of all Google announced that https has an influence on search engine rankings.  They say this but they also admit that it is a small factor.  You can read more about it here.
Also if you want to run an eCommerce store you need to have an SSL connection.  Https is an SSL connection.  I wanted to mention both of those here so that you were aware of it as you will see both SSL and Https.  So if you want to accept payments on your website, even through paypal you will need the certification.
How Much Does HTTPS Cost?
Well that all depends.  It actually can be quite costly.  For example if you use GoDaddy.com, I use them for an example because it is a popular site and many people know about it, they charge a minimum of $55.99 per year for the first year and $69.99 per year after the first year for just one site.  If you have multiple sites it cost $139.99 for up to five sites for the first year and then $149.99 per year after that.  They also have one more option that includes one domain and all of it's subdomains that starts at $269.99 for the first year and $299.99 for each additional year. You would still also need to pay for hosting on top of that, as far as I understand.
Remember that first line of this article?  Let me refresh your memory, "Wealthy Affiliate now has FREE https  included with their premium membership."  Well that can be a great savings.  Let me explain.  With a Wealthy Affiliate membership you can host up to 25 domains.  Each one of those domains can have a free HTTPS on it.  This service is only included in the premium membership.
How Do I Know If I Have HTTPS On?
By looking in the address bar at the top of the screen you can quickly see if a site is using https.  If it is you will see a green lock to the left of the address.  It might also say secure. At the time of writing this article I have not changed this site over to HTTPS. I might do it in the future but just haven't yet.  You can see what I am talking about here at the Go Daddy site address that I showed you in the previous picture.
How Do I Change to HTTPS?
As far as changing from http to https for most sites it is actually straight forward though it does take some work and technical know how. You can read up on it here.  For those on Wealthy affiliate it is really very simple.  Go to your site manager.  Under the website profile of the site you want to be an https site click on the part that says "SitePlus+".  That will take you to another screen and all you need to do it click the slider to on for "Site SSL (HTTPS)".  Then wait about 30-60 seconds and you are done.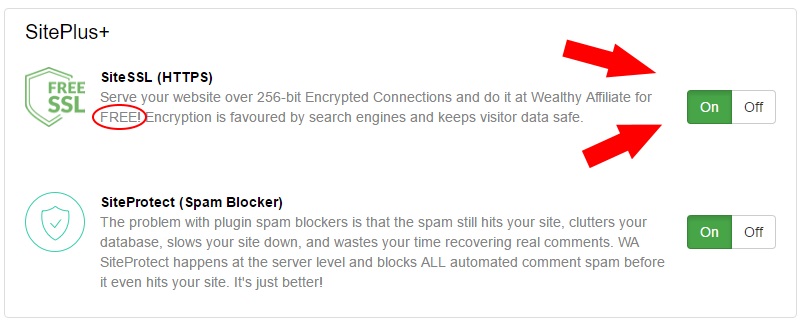 It really is that simple.  If there are any issues with your transfer to https you can contact the support and they will help you fix those issues.  Wealthy Affiliate also has a great webinar recording withing the training section on how to fix some common issues with the http to https transfer.
I use Wealthy Affiliate for many things.  It is one of my top recommendations on how to build a business online.  You can try it out for free here or read my full review of Wealthy Affiliate here.  There are so many things that can help you with building an online business.  You can see a full list of them at the menu above.
Please let me know your own experiences with http and https, or leave any questions below.
Disclaimer:
When you buy something from this website, I may receive an affiliate commission. These are my opinions and are not representative of the companies that create these products. My reviews are based on my personal own experience and research. I never recommend poor quality products, or create false reviews to make sales. It is my intention to explain products so you can make an informed decision on which ones suit your needs best.