We have all heard the saying content is king.  That is so very true; content is king.  Not only do you need to put up fresh unique content but you also need to do it consistently with any website, especially when it is new. If you want to know how to make money by blogging, then it starts with you writing articles.  If you want to get those all-important Google ratings, then you must engage your reader find things they want to learn about and give them that information.

How much content is enough?
---
Well that is a tricky question to answer.  The best answer is the more the better.   As a general rule of thumb you should post no less than two articles a week preferably three or more a week.  I know sometimes life throws you curve-balls and you need to just back off a bit.
This will not hurt you that much if it is only for a week or two, but if it becomes a habit than your website will suffer.  The key is you need to write unique articles.  You do this by keeping your finger on the pulse of your niche.  Do a little bit every day.  Even if you don't have an article written everyday you will still be able to make progress.  Don't think, "okay I will do it tomorrow."  As we all know "tomorrow never comes" and you will see how quickly tomorrow turns into a week or two. You really need to become committed.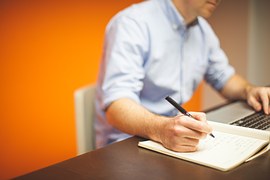 How long should each article be?
---
When I first started out I thought the magic number was 500 words.  The truth is there is no real magic number.  I personally aim for 1500 words per article, but I rarely reach that long.  Once I have chosen my subject to write about, I tend to make a brief outline, or sometimes I just write and see what happens as I write.  Then I continue to write until I have purged the topic.  Sometimes it is close to 1500 words, sometimes it is only 700 words.
Writing naturally and not forcing words or worrying about it being a specific length is what you really need to do.  When you feel you have exhausted the topic for your niche then it is time to stop writing and set it aside for a day.  I have another article that I wrote about how to research articles that are effective, if you want to get additional ideas on how to research and write articles.
Write With Intent
---
In order to make money with these articles you must write with intent.  Meaning, even before you begin writing; know what you want your reader to do after they are done reading.  That does not mean that every article you should try to sell them something or have them click on an affiliate link.  In fact if every article you try to sell them something then it could make the reader actually stop coming back for more.  You want and need the readers to come back.
Write articles that have a purpose and help your reader.  I have several articles that I think will help my reader and even ones that if they sign up for something I don't get paid at all but that is okay.  Why would I do that, because it is good for the reader and me.  I love my readers and want to help them in many different ways.  If I help them, I mean truly help them, they will come back for more.
After you write an Article
---
So after you are done writing your article, or post, should you publish it right away?  As I mentioned earlier, I normally set it aside for a day so I can clear my mind.  After you have had the chance to clear your mind go back to the article and see what you have written.  Edit that article with an open and clear mind will help you find all of those mistakes.  You will see what you actually wrote verses what you thought you wrote.  If you try to edit your work right away, you might read what you thought you wrote verses what you actually wrote, if that makes any sense.
After you edit your post you can then find your pictures and post your new article.  You can also find your pictures the same day you write your article.  There is nothing wrong with that.  In fact, many times as I am writing I will get an idea about a good photo for the article I am writing.  I make a mental note of that, but don't stop writing.  Once I have completed the article I will see if I can find the picture I wanted.
Writing Articles Can Seem Daunting
---
While forcing yourself to write articles can see like a monotonous thing to do, it is really the only way to get started in the world of online business.  Remember content is king and you will soon have enough content to be king.  The things you need to be successful are:
Write new articles all the time.
Make sure the articles are unique in content.
Interact with your readers.
Get help from others in the industry.
Ask questions and get answers.
Don't be afraid to make mistakes.
Educate yourself.
This article is to get you started my next one will be more on what to do next.  If you are serious about making an online business a successful one, then you really need all the help, and it is okay to want or need help.  I am here to help in any way I can.  Take a look at these three reviews that I found to be very helpful to me when I first started out in my online business adventure; Wealthy Affiliates, Affiloramma, Clickbank University.  I have also found more recently about Digital Altitude, you should check it out.
Please leave me your feedback and comments on anything you feel is relevant to the topic at hand, just below.  Thank you.