"Baton down the Hatches and get ready for the Squall!"  Google has done it again.  That is the cry you are hearing from many website owners.  Google has changed their ranking system once again. Now you need to check for a Google mobile friendly website test. What does this really mean for you?
Well the answer to that question is:  "It depends."

Let's start by saying what they changed.  Well a while back Google announced that it was changing its ranking system to include a "Mobile Friendly" aspect.  Really this makes perfect sense.  After all 80% of internet users own a smartphone and access the internet by it.  That does not mean that they only use a smartphone to access the internet, but you see my point.  So if your website is not mobile friendly then you are in trouble anyway.  You are losing all kinds of potential traffic.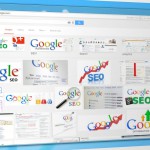 That being said, Google just gave you some added incentive in case you have not changed your site to a mobile friendly version.  Most people do not need to worry about the change that Google made effective April 21, 2015.  Why?  Very simply the more recent your website it the higher the chances are that it is mobile friendly without you even knowing it.
So how do you check
---
Checking to see if your website is mobile friendly is actually very easy to do.  All you need to do is to access your old friend Google Webmaster Tools.  If you don't have a Webmaster tools account they are easy to set up and get the information you need, and it is completely free.  Okay back to my point.  Once you log into your webmaster tools account click on the search traffic menu.  At the bottom of the menu there is a "Mobile Usability" button click on that.  Once that is done it will show you if there are any issues on any page of your site.
What you hope to see is "No Mobile usability errors detected. Be sure to check all site variants." If you see that you are in the clear.  The next logical question is what is "all site variants" and what does it mean?  It simply means the www version of your site and the non-www version of your site.
If you have an error it is not the end of your life with google.  It is actually very easy to see how to fix.  If you have an error or multiple errors on Webmaster Tools, you can access their write up on it right above the error.  It looks something like this," Fix mobile usability issues affecting your site. Learn more."  That will at least get you pointed in the right direction.
What if you do Nothing
---
Again, more than likely your site is mobile friendly, especially if it is a new site.  If you have an older site or the site is not mobile user friendly, you might have already seen a drop off in your organic traffic from Google.  As I stated earlier, Google made this change effective April 21, 2015.  Really it only makes sense that Google implements this change with the amount of people using mobile devices.
The end result if you do nothing and your site is not mobile friendly is you will lose your rankings that you have worked so hard on.  It really only makes sense.  It might be time for a complete overhaul of your website.  Once it is done, think of all the extra traffic that will be driven to your site!  You will have a big increase as you move right back up those Google Rankings.
Final words
---
Because of the latest changes in Google's SEO algorithm, I would suggest at least checking your website for mobile friendliness.  If it is a newer site it probably won't be an issue.  If it is Google outlines how to fix the issue.  If you have a ton of pages it is going to take some work, but you were not getting the full benefit from Google in the first place.  Google is now forcing you to update your site so you can get even more traffic.
If you are new to online business you should check out some of my reviews on places to learn more about how to succeed.
Please let me know your experiences with the latest change that Google has implemented below.