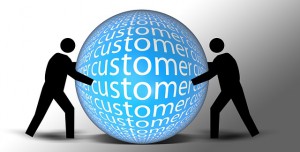 Okay even if you are brand new to a website business or are just starting to look around.  I know you have heard, "The money is in the list."  It is simply hard to avoid this statement.  So what you need to do is build a quality email list, and there are good reasons why.  Internet marketers love email lists, because unlike paid for traffic you it is a continuous supply of people who trust you and it doesn't cost anymore to generate that traffic.

What exactly do I mean by this?  Well If you spend time and build a list it costs you two things, time and money.  The time you can never get back but once your sphere of influence (your email list) has grown and you have trusted subscribers, you can drive traffic to your site by the click of a button. So many options and you didn't have to pay anything additional for that traffic.
Paid Traffic
---
For example, let us say you have just started a new campaign and want to drive traffic to it.  So the first thing you do is look at ads from Google, Facebook, Twitter, and even Bing.  These ads cost money and time to set up.  They are one and done.  Once the prospect clicks the link and you pay for it, you have one shot at it.  If they like your offer they click on it and you make money.  If they don't like your offer they are gone forever.
Another issue with the PPC campaigns, as listed above, is the audience may not trust you.  You have just a few seconds from them landing on your page for the trust to be built.  If they don't trust you, they won't try your offer and they are gone, maybe forever.  However, with an email list you have built trust with your subscribers.  They trust you if you send them an offer your conversion rate will be much higher than any paid ad would ever get.
Why is that?  The truth is if you handle a subscriber with their best interest in heart.  They will trust you.  You don't want to bombard them with offer after offer.  Then when you do send them an offer, because they trust you, they are more likely to respond to it in a positive way.  You have built a rapport with them and they show gratitude to you by trying your offer.  If they don't like your offer, that is okay, they might be interested in your next offer.  Again and again until they unsubscribe.  Definitely not one and done.
Build Your List
---
Okay so how do you start with building a list?  Well, there are several ways.  The first things you need of course are a website and an auto-responder.  You can see the autoresponders I suggest here.  The autoresponder will have the subscription form for you to utilize.  All you need to do is fill in the information as you want.  Then paste the code into your website, easy enough?  I think so.
Once you have that done you can have free giveaways as a way to entice people.  My rule of thumb for my subscribers is that I only send out one email a week.  Some people will send out more than that some less.  I find that if I send them informative and helpful information, they appreciate it.  I don't try to sell them anything.  Most of the posts come back to my website then they can choose to read more about it or move on.  If you inundate them with offers and sales they will quickly leave your mailing list.
I know we have all been on one of those lists that after a week you see the email pop up from "XYZ" and you just roll your eyes and delete it, sooner or later you unsubscribe.  That is not the goal of an email list.  The goal is to get people wanting more.  Again just think of giving them what is in their best interest and it will grow steadily.
Just as in any business you have to make sure you know your customer and give them what they want.  The more of what they want you, give them the happier they become.  Also like other businesses, it is easier to sell something to a returning customer than it is to acquire a new customer.
There are some great tools out there that can help you.  Read my friends review on one of the best ones, Click Funnels here.
Build the Relationship
---
In any relationship we have different levels and in today's market, this still holds true for email marketing.  Many people say there are 4 stages of customers.  The Stranger, The Acquaintance, The Friend and The Best Buddy.  I could say lover but I think I will keep this in a PG setting.  Each stage gives us different challenges and as your customer moves through these stages, the chances of them buying something from you increases.
People, in general, are creatures of habit.  They like what they like and will continue to go to the same place if they like what they are getting.  So a person in the stranger stage is very unlikely to trust anything you say and will have a very small chance of buying anything from you, especially if you inundate them with one offer after another much like most internet marketers do.  This is where that bonus comes in or a free offer that I talked about above.  Get them to give you some info so you can contact them again in the future, in return give them something of value.
Once they have subscribed to your site they become an acquaintance.  Don't scare your someday friend away by coming on too strong.  You don't want to taint the new found and budding relationship.  Instead, continue giving them helpful and useful things.  It can simply be updated to your website, small training packets or anything of the sort.  Build that relationship.
As you foster that relationship you will find you are becoming closer to that person.  You might even begin to share more and more personal things about your life.  That is okay.  Eventually, this person might send you a message about something before they buy it asking you a question.  This means you are beginning to move into the good friends stage.  They are beginning to trust you and feel they can rely on you to give an honest opinion.
If you have people that reach the best buddy stage they will be customers for life.  This is the ultimate goal in email marketing.  If you can get your email list to this point they will be the holy grail of a responsive list.  If you make them an offer they will not hesitate to buy it, download it and even recommend it to their friends.
When to Start
---
So, now that leads us to the question when do I start my list.  The simple answer is as soon as you can.  Just make sure you are responsive and as I have mentioned in other sections you need to make sure you are consistent.  The sooner you start the list the better off you are, even if you are brand new to building websites or internet marketing.  You can look at my review of top autoresponder services here.
One thing that I must warn you about though is to never buy an email list.  There are anti-spam laws and you must conform to them on any list this includes a double opt-in for subscribers.  You can get fined for each and every email you send out.  Believe me, you don't want that to happy.  So the best thing is to start your own email list and make sure that you follow the laws.
If you have any questions or comments please leave them below.