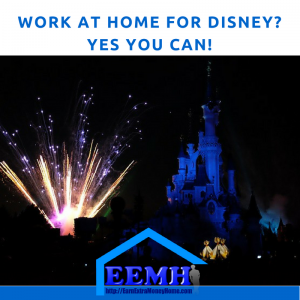 You read that right you can get a job working at home for Disney.  Jobs at Disney from home include, but are not limited to Travel Consultant, Blog writer, guest support, remote communications/ social media rep, and more.  There are some obvious requirements for each of these job positions.  If you love Disney and want to work for them, you might just be able to do it from your home.
Disney Travel Consultant
---
This is actually an interesting one.  If you have a lot of Disney knowledge, then you can do this.  You do not need to have your travel agency license.  You can find an "Official Disney Travel Agency" and apply for a job with them.  You really do need to know your stuff about Disney and locations.
Most agencies require at least 8 visits to Disney Theme parks.  Some even prefer multiple locations.  I myself have been to Disneyland California at least 8 times, Disney World Florida, Euro Disney, and Shanghai Disney.  Each park has unique features and surroundings.
These personal experiences that you can only get by going to the theme parks themselves are what will set you apart from the crowd.  If you have them and love Disney, why not put them to use.  I am not going to review any Official Disney Travel Agency, so do your own due diligence before you start to work for one. When you work for one you will use their codes to book the trips and get a commission for your work.
Disney Blog Writer
---
There are several different types of work blogging you can do here.  Two main sites that Disney owns are the Theme Park Tourist and Babble.  While they are both owned by Disney they are very different and pay different amounts to their writers.
Theme Park Disney pays writers for accepted articles that are 1000-1500 words. These articles are about, as the name suggests, the theme parks themselves.  They can be about any of the parks themselves.  The pay is $40 per article.
Let me tell you a bit about Babble.  It was a blog that was started in 2006 and it exploded with visits.  I am talking over half a million people visiting the site each month.  The blog has many different topics including, but not limited to; Baby, Moms, Pregnancy, Beauty, Home, Food, Travel, and more.  Disney bought the blog in 2011. They pay $150 for articles in the 800 to the 1200-word range.
Lastly, you could always just start your own Disney Blog, but you need to make sure you don't use the intellectual property of Disney.  I mean anywhere on your site.  The reason is that it is a registered trademark and you could be in violation of some laws. You have been warned.
Disney Guest Support
---
You can get a guest support job for stores working from home.  These jobs are location specific to a state.  These jobs are answering calls and emails, calling guests, identifying and resolving issues, and escalating issues to the appropriate person when necessary.  It is a call center job but from your home.
Other Jobs at Disney
---
There are many other jobs at Disney that you can do from home that I have not gone over.  Sorry if I went over all of them you would be reading this post for hours.  I just wanted to get you a basic idea o what was available.  Some of the jobs require university degrees, center around the specific job so make sure that you are qualified for the job prior to applying.  You can find and apply for Disney Jobs here.
If that is not what you were thinking of you can check out the way I learned how to make my first real money from home check out my number one recommendation.  Please let me know your experiences or questions below.  I have no affiliation with Disney what so ever, this was just another post to help give you more options to earn extra money from home.