Social media is big.  I know "tell me something I don't know".  Many people, including myself, when starting a website sometimes ignore it at first.  Sooner or later though, you need to acknowledge and work with social media.  This is where you can start a social media marketing plan.  There are many things to work out including: what platforms to use, how often to post, what to post, when you publish a new article how often should you post that article to each platform.  Below are some tips for social media marketing; while that is not an exhaustive list, it is a good place to start.

What Platforms to Use?
---
I personally use Twitter, Facebook, and Google Plus.  I also sometimes use Pinterest and am starting to dabble with Instagram.  You don't need to join every single platform out there.  If you are just starting out I would stick to the main three that I mentioned first.
Twitter is a great way to build your customer base.  It is short, sweet, and helps drive traffic to your website.  It is also the platform that you can send your article to the most.  Make sure you shorten your link to keep the characters to a minimum.  Don't forget to make sure you use hashtags in your post.
When you use Facebook you want to make sure you don't overdo it.  Posting things too often on Facebook could cause you to lose your customer base.  Just like with other social media posts make sure you don't just post your link.  Say something about it and keep people interested.  You might find that you get more interaction with your posts here than other platforms or even your website.
Posting your link on Google plus is a great thing.  After all Google owns it so they love seeing you use their platform to share your website post.  This gives you a little more link juice from the other platforms.  This one is in the middle of the road on the amount of times you can post one link.
No matter what social platform you use make sure you don't just share your stuff.  Like, share, and comment on other people's posts as well.  You don't have to spend all day on the account, just take a little time each day to interact with people.
How Often Should You Post?
---
A general rule of thumb is to post enough to be seen but not enough to be annoying.  I try to keep it between 2-5 posts per day, per platform.  This will help you build credibility at the same time as building your audience because they are looking forward to seeing what you post.
Make sure you are not just spamming your links everywhere.  Doing so might get you a quick spike in responses but it will also fall just as fast.  This goes hand in hand with sharing other people's content.  A good way to get other people's content is through a website called Triberr.  I use them to help source good content and I only use the free portion.
Social Media Schedule
---
Well you finished your beautiful post and want to know when and how often to share it on social media.  You are in luck.  I have outlined some of the best practices for sharing that wonderful post on the web so you can not only gain more authority in your niche but also get more traffic to your site.
See the diagram I have listed here.  Not to over explain but I will here.  The check marks mean to post at that time on that account. The red "x" means not to post it on that account at that time.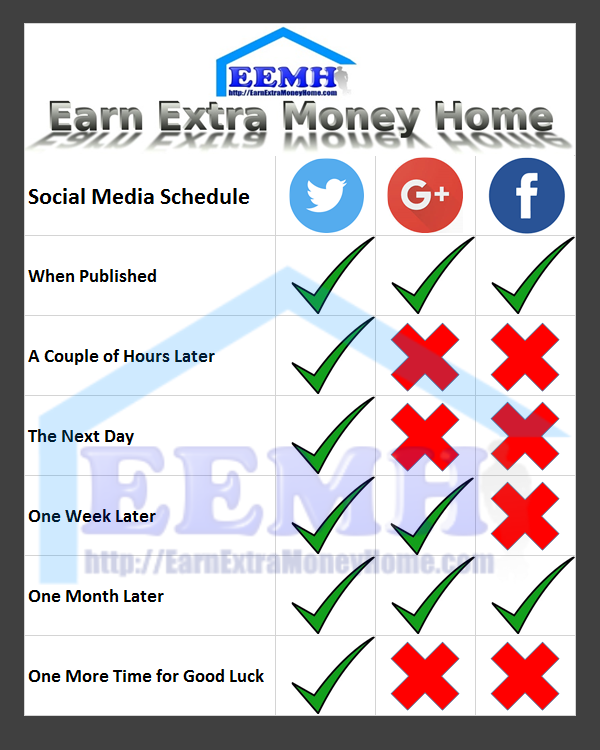 The time frames are as outlined here:
Published: Right after you finish publishing your article you should post the link along with a sort description of it to all of your accounts.
A Couple Hours Later: The same day you publish your article, repost a few hours later on Twitter.  That is right publish it twice on twitter on the same day. Don't do it on the other accounts.
The Next Day: The day after publishing you can once again put a tweet out there.  Again only on Twitter.  Remember I said you can do it more often here than other platforms.
One Week Later: One week from the time you published your article on your website tweet it and post on Google Plus once again.  Not on Facebook.  Don't worry that time is coming.
One Month Later: A full month after you have posted the article to your website post one last time on Facebook.  See I told you it was coming.  You will also want to Tweet it again and post on Google Plus.
One More Time for Good Luck: You can post one more time for good luck on Twitter.  I would suggest about 2 months out from the time of publication. You can post any time after an additional two weeks.
If you follow this schedule each article you write will get exposed to social media 12 different times.  That is a lot of exposure just from you. Imagine how many more likes and shares you will also get from that added exposure.
How Do You Keep Track of it All?
---
Don't get overwhelmed.  It really is not that difficult.  I personally use the free version of Hootsuite. Once I publish an article I take 15 more minutes and set up all of my social media posts for that article.  Set it and forget it!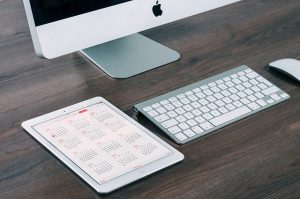 You could to it manually. It might become very complicated though.  If I did it manually I would simply put a reminder in my calendar to post to what forum and what article to post.  This way when I opened my computer I would get a reminder that I needed to post.
You can also revisit old posts and run them through the mill again after 6 months or so.  The articles that get the most traffic keep them and repeat the process every 6 months.  If you notice the response rate is starting to fall then shelf it for a while longer and try again.
What to Write on the Social Post
---
You can write the same exact thing on all of the platforms.  Don't worry about duplicate content or anything like that, there is not a penalty for it when used in this context.  It is better of course to customize each post to the platform, but take your time don't let it drive you crazy.  Try to make sure that you have a picture with the post.  It will get much better response.
I have given you some tips on how to create a social media marketing strategy.  If you follow them and the post times you will find success with your campaigns and an increase in traffic to your website.  I started out just like everyone else asking questions.  Now I am able to answer some questions and I hope you have enjoyed these tips.  Please leave a comment or questions you have below.  Check out my top recommendations here or all of my recommendations on my recommendations page found at the top of this page.