Name: Mastering Ads Affiliate
Website: www.masteringads.com
Price: Free to $10 a month
Owner(s): Ryan Hauser
Overall Rank: 6/10

Mastering Ads Affiliate Review
---
Ryan Hauser is an expert in revshares and is dedicated to helping others earn money online.  His program can be utilized for free.  It is a simple and easy system to use.  He recently launched his own revshare program that is growing very quickly because of the level of trust from his followers.  The new revshare he has started is called Traffic Network Takeover or TNT Revshare, which is shaping up to be one of the best ones out there.  That is not what this review is about though.  This review is about Mastering Ads. So what is it you ask?  Well it is a free sales funnel that you can utilize on your revshare programs.
You can read some basics on how revshares work on my Adaxel Journey.  That being said.  There is free training on how to make the most of your revshare ad credits.  The system also gives you landing pages and as I mentioned before a free sales funnel for other revshare programs.  What I mean by this is instead of posting your links to other revshares on different post  You just post one link and it advertises your revshares for you.
The Good and the Bad
---
Good
You can access and utilize the system for free.  It will use your link to build your down line in 3 main revshare programs.  This means that you can focus on just one ad and get the benefit of 3 for each signup.  Some people say the market is saturated with the ads.  I disagree.  In the past 30 days I have had 15 signups onto the system through the use of revshare advertising.
Every Thursday he has a free webinar to answer your revshare questions.  This is one of the main greatest things that is done.  They typically last about 2 hours.  Ryan himself presents them and talks about what is happening in the industry and how to optimize what you are doing.  He is open and share what he knows.  These are also completely free to attend.
As I have mentioned in other posts, revshare traffic is not the best traffic in the world.  The reality is most of the people on the revshares just click the ads they need to click.  That being said, Mastering Ads has found a way to convert your traffic.  It focuses in the right niche as the people on these programs are looking for a way to convert their traffic better.  This system accomplishes just that task, and does so for free.
There are a lot of videos in the program.  They are updated regularly.  The only problem with the videos is that they are sometimes vague.  There are also many videos pending at this time.  You can always get the answer you want during the free Thursday webinars so dont worry about it too much.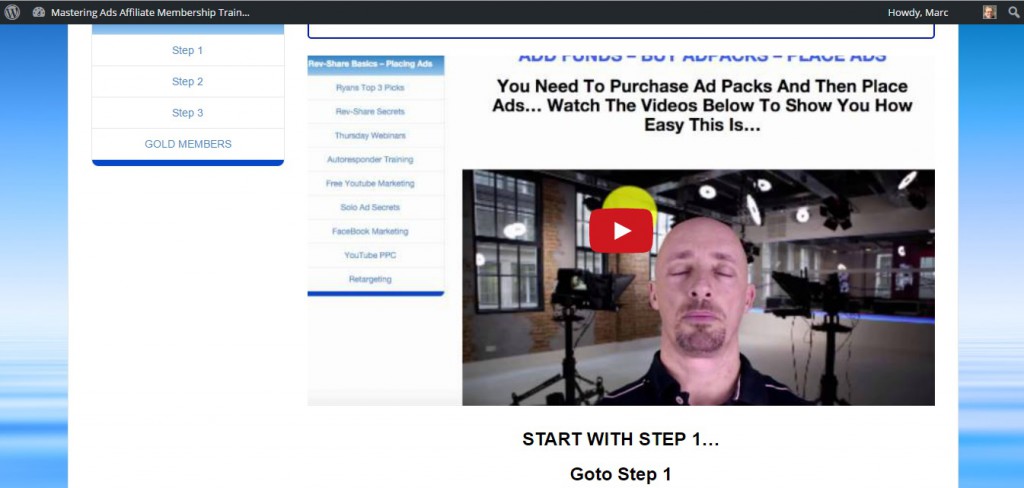 Bad
The free membership is limited to 3 revshare programs that it promotes.  There are other programs they discuss but in order to be able to promote those as well you need to pay $10 a month.  I am a $10 a month member.  The reason I did this is I wanted to take advantage of all the programs that they feel are good.  Also if you sign up to the $10 a month program and you cancel it, your entire account will be canceled.  The reason is they have no way of deleting your saved program IDs without canceling your entire membership.  There is not an affiliate program to recruit people to the $10 a month system.  If you sign up for it under my ID, I do not recieve a commission.  I do get money from the revshares that you join and put money into if you sign up to it under my ID so this is why I promote the free program.
The other thing I dont like about the program is the response time from customer service is not great.  Then again every Thursday you can actually ask Ryan the questions in the live Webinar.  So I guess it is a bit of a give and take.
Customer Support
---
The customer service as I stated is a little slow.  Even Ryan Hauser has admitted that on his free webinars. In the end you do get your answers you want and you get them from the owner himself.  So I guess I cant complain too much.
Who is Mastering Ads For?
---
It is perfect for someone who wants to try revshares and make a profit.  Also someone who is looking for a better way to increase the conversions of their revshare traffic.
Mastering Ads Affiliate Price
---
I will keep this one short and sweet.  There are two options and no upsells.  Free option this allows you to promote 3 revshares with one link and to attend the webinars on Thursdays.  The other option is $10 a month, this allows you to promote all of the revshares in the system with one link.  I think there are currently around 10.
My Final Opinion of Mastering Ads Affiliate
---
Ryan Hauser has obviously dedicated a lot of time on this program. It definitely teaches you the ropes of revshare programs and shows you which ones are the safest to join.  There is both a free version as well as a paid version.  The free version is great if you are just starting with revshare programs.  You can always upgrade at a later date once you have some funds coming in.
Go ahead and give it a try Mastering Ads here, after all it is free to try and you don't need to join the paid program ever.
This program is a bit off of my normal topic of building an online business through blogs, but it still is a legitimate business and something you can try out for free. If you are serious about building an online business, you should check out my top recommendation.  As I said it takes many things to build a successful online business you can see many of the things that have helped in in my recommendations page.
As always if you have any comments, questions or personal experiences please feel free to leave them below.  I love hearing from you.
Disclaimer:
When you buy something from this website, I may receive an affiliate commission. These are my opinions and are not representative of the companies that create these products. My reviews are based on my personal own experience and research. I never recommend poor quality products, or create false reviews to make sales. It is my intention to explain products so you can make an informed decision on which ones suit your needs best.