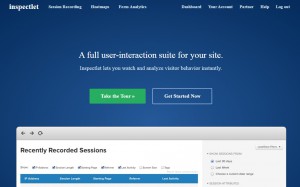 Name:  Inspectlet
Website: www.inspectlet.com
Price: Options start Free
Overall Rank: 8/10
Inspectlet, Overview
---
This is a program that I found while reviewing one of my other programs on my recommended list.  It is a great way to increase conversion rates  How exactly can it help you and what is it?  Well it is an online program that records you're the movements, clicks and provides heat-maps as well on what your users are doing.  Being able to see exactly the way users behave on your site is a very valuable tool to help increase those conversions.
The Good and the Bad
---
Good
There is an absolutely free version of the program that lets you record 100 users a month.  This gives you a general idea of what your users are doing and how they interact with your site.  The first thing to make not of is that each level has a daily limit of how many recordings will be done from your site.  These recordings are a wonderful tool in order to better understand what your visitors are doing.
They also three different types of heat-maps.  The first is an eye heat-map.  It shows where they stop their cursor.  Many people read with their cursor when they look at a website.  The second one is a click heat-map.  This shows you where they are actually clicking on the page.  The last one is a scroll heat map.  It shows how far down the page people scroll once they land on your page.
Each one of these can help you increase your conversions.  The free trial is a great place to start.  Then the first level gets you a lot more data than the free on each month.  The more data you have the better your overall conversions will go.  But I suggest to try the free version to see if it is really worth it to you.  There is no time limit on the free version so that is one of the best parts.
Bad
Sometimes I have to reload a page as it is loading.  That might have to do with the fact that I travel a lot and sometimes the internet connection is not as good as other places, but it seems to happen more on their site than other sites.
I use WordPress as I have mentioned several times throughout this blog.  I am not a programmer and am a little bit afraid of programming.  The plugin for Inspectlet is a bit old so I was afraid to use it but I am currently running the latest version of WordPress and used the plugin without any issues.  It was actually really easy to set up.
Also the first step up is a bit of a price jump from free to $39 per month.  Admittedly you get a big jump in info available from your site.  I believe you can quickly justify the cost.  Other than that I really cannot find anything else negative about the site.
Customer Support
---
They have email support for most levels of service.  The email support is very responsive.  Their two most expensive tiers have email and phone support.  I sent them an email with a simple question and they responded to me within a few hours.
Who is Inspectlet For?
---
This is a great system for anyone who wants to know more about the readers of their website and their habits of how they use the website.  It allows you to see how people read the site, what they like and even what draws the attention of the reader.  This allows you to make better pages and more productive pages overall.  If I had an e-commerce site this is a must.  For other sites it definitely helps with your writing as well as conversions.  Lets you know where to put the all special call to action buttons.
Inspectlet Price
---
They have a free option you can use as long as you want, however it is limited on the amount of information, by this I mean the sessions, that it records.  The next option is $39 per month, this is for one website but tracks up to 5000 visitors per month.  If you have more than one website you can track up to 3 websites and 25,000 visitors per month for $79 a month.  Then for $149 per month you can track up to 10 websites and 50,000 visitors a month.  The last price they quote is for $299 per month this allows 20 websites and 125,000 visitors to be tracked a month.  They have an unlimited option but you need to contact them for price on that one.
My Final Opinion of Inspectlet
---
This is the best tracking program I have found out there.  It is a web-based program so you don't need to download anything.  You just need to put the script on your page or use the plug-in and it starts working right away.  It is really cool to sit and watch the recordings of what people looked at as they browsed your site.  Each session is recorded from the beginning of the session to the end.  No matter how many pages they visited and no matter how long they stayed on the page.  If there are long periods of inactivity on a recording it will skip forward.  I love this program .  You can try it out here, it will help increase your conversions.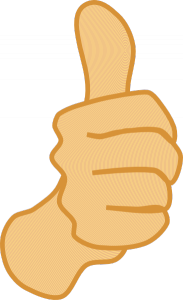 8/10 Legit
This is just one tool in a group of tools that I have found very useful.  I will be adding it to my recommendations.  You can read my top recommendation here or  you can see all of my recommendations here.
If you have any of your own personal experience, comments or questions; please leave them below.
Disclaimer:
When you buy something from this website, I may receive an affiliate commission.
These are my opinions and are not representative of the companies that create these products.
My reviews are based on my personal own experience and research.
I never recommend poor quality products, or create false reviews to make sales.
It is my intention to explain products so you can make an informed decisions on which ones suit your needs best.