Name: CashBlurbs
Website: www.cashblurbs.com
Price: $20
Owner(s): Bryan Winters
Overall Rank: 7/10

CashBlurbs Review
---
If you have never thought how sharing your ads with others can help you increase traffic to your site, then this is the program for you. Cash blurbs is a program that generates viral traffic for those who have enrolled in it and this traffic is generated by promoting the ads of others to your followers on Twitter and Facebook as your partners in the group get to promote your ads to their followers to.
The best thing about this is that you will not only enjoy promotion of your ads within the confines of cash blurbs and the connections you get access to through it but this will be spread across the whole network causing you to reach out to many more. As you get to promote your ads to shared contacts, you will have the advantage of leveraging on the new contacts that have already been shared too.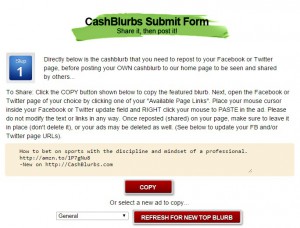 The way all of this happens is you share one post on your Facebook page and/or Twitter page, and then you can post your link.  Once this happens other people will share your post on their Facebook or Twitter page.  The pages need to be active pages with at least 75 people within 30 days of starting the system.
The Good and the Bad
---
Good
You are guaranteed of your cash back within 60 days if you realize that this program does not deliver as expected.
It is the best advertising platform for those who need to reach out to as many contacts on Facebook and Twitter as possible. The potential of this program in terms of how many people you can reach is limitless and that is why it is the best from this point of view.
This program has unlimited membership that allows you to post an ad after every 20 minutes at a cost of $20 only. For those who are dealing in multiple services or products, this will be the best option since it is available 24 hours a day. There is also the option of free membership which allows you to one ad per day.
Bad
The free membership option does not help you achieve much in the shortest time possible as would the unlimited membership option. Hence, you might end up paying for the service on this platform if you need to maximize on it and this will cost you $20 monthly.
Customer Support
---
They have a very responsive customer service section.  It is handled through a 3rd party. I received answers to my questions within 24 hours.
Who is CashBlurbs For?
---
Cash blurbs is meant for those who would want to generate traffic through Twitter and Facebook that will extend beyond the boundaries of the contacts they will be able to reach on these social platforms. It is also meant for those who are dealing in multiple products or services who may be looking into ways of generating viral traffic form the social platform.
For those who value the importance of fostering interrelationships in business, this is the platform that is meant for them.  It is a good place even to advertise affiliate products.
CashBlurbs Price
---
By paying a onetime fee of $7 you will be able to post up to 72 ads for a period of 15 days and there after you will need to choose between free and unlimited membership. For the latter you will pay a monthly fee of $20 to be able to post an ad every 20 minutes while free membership allows you to post only one ad each day.
My Final Opinion of CashBlurbs
---
Advertisement is a requirement for every business that needs to draw the masses as it promotes its products or services for more sales and it can be quite expensive. However, you can opt for a cheaper advertisement option which will help you realize more traffic as you reach out to the masses. This is what cash blurbs is and it is a better option compared to other expensive advertisement strategies that you may opt for.  You can check out CashBlurbs here.
While this is a legit system to drive traffic to your offer or website, it still does not set up a sustainable business model.  If you are serious about taking the next step and really learning how to start a successful online business please see my top recommendation.  If you already have a business started and are just looking for other ideas you can take a look at all of my recommendations here.
As always please leave any comments, questions, or your own personal experiences below.  I love hearing from you.
Disclaimer:
When you buy something from this website, I may receive an affiliate commission. These are my opinions and are not representative of the companies that create these products. My reviews are based on my personal own experience and research. I never recommend poor quality products, or create false reviews to make sales. It is my intention to explain products so you can make an informed decision on which ones suit your needs best.