Name: 5 Figure Day
Website: www.5figureday.com
Price: $1, $25, $99
Owner(s): Brian Winters
Overall Rank: 1/10

5 Figure Day Review
---
Basically involves promoting this program before you even get to generate your own money from it. Once you get absorbed into 5 Figure Day you will get an affiliate ID and thereafter, you will be required to promote this program as if it is the in thing at the moment. This is a marketing strategy that used to work effectively in the past.
Clearly, this is a way to get to earn money from all who subscribe to this program before they can even realize the benefits of the same. Nowadays, this strategy will not be as effective as it should be and due to change in priorities, many would not be willing to put in their monies where there is nothing to show for it as they start.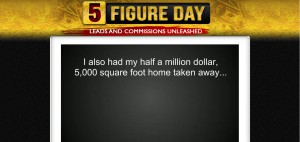 The Good and the Bad
---
Good
Though it is not the best strategy for making money online in this day and age, it can still earn you some cash.
Bad
This is one of those Clickbank products, which implies that you cannot really depend upon it.
There is no real product that you will be dealing in because you are required to sell / promote what you just bought into. For beginners, this is a start on the wrong foot which will hardly yield the results you have been seeking.
Paying $1 for trials is rather reasonable but when it gets to the extent of paying up to $99 per month, this is far too costly and this is an unworthy investment in a venture that reaps from you first before it starts putting money into your pocket. Definitely, not the best option.
This program has been crowded with complaints and the implication in this case is that it is not what you would term to be the in thing. As a result, you might want to think twice before you jump into it.
In the past it would work and yield results but not anymore. You will need to consider other alternatives available out there if you are considering a program that is much more effective compared to 5 Figure Day.
Customer Support
---
They have two different ways of contacting them.  One they use a service to answer questions for most people.  They also have an email address that can address your answers.  They are fairly responsive as I received an answer within 48 hours of sending a question.  I am not sure that you can get a hold of Brian Winters himself, but they are responsive.
Who is 5 Figure Day For?
---
With all the negative information and cons that outweigh the pros, this is definitely the last thing that anyone wishing to make money online will be looking at. Unless one is willing to lose on their valuable investment, this is not the best option even for beginners. This program has been overtaken by time and so it is not appropriate for anyone in this current age.
5 Figure Day Price
---
You begin with an investment of $1 for the trial version. Once you are taken in you are required to put in an additional $25 and later on you will be paying $99 on monthly basis. This could be very costly.
My Final Opinion of 5 Figure Day
---
I do find a hard time giving this program a good rating.   There is hardly anything beneficial you can draw from this review about 5 Figure Day and going by this, you are better placed with other platforms out there. There are far much better programs out there that will earn you great monies online, which do not require great investment. Hence, it will be a mistake to even think that 5 Figure Day will help you realize a return on investment. It will be a big lie to imagine so.  All of that being said you can give it a try, even if it is the trial for only $1.00 to see for yourself.
I feel there are much better programs out there like my top recommendation.  You can read all about all of my recommendations here.
As always please feel free to leave your own experience, questions, or even your comments below.
Disclaimer:
When you buy something from this website, I may receive an affiliate commission. These are my opinions and are not representative of the companies that create these products. My reviews are based on my personal own experience and research. I never recommend poor quality products, or create false reviews to make sales. It is my intention to explain products so you can make an informed decision on which ones suit your needs best.