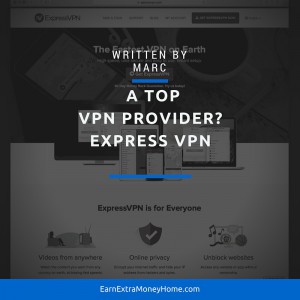 Name: Express VPN
Website: www.expressvpn.com 
Price: Starting at $8.32/mo
Price2: up to $12.95/mo
Overall Rank: 9/10

Express VPN Review
---
Well many people think that a VPN is to hide the activities of people doing something on the internet that they shouldn't be doing.  While that is the case for some people.  However, the vast majority of people who use a VPN do it for security purposes.  I personally use a VPN everyday, especially when I am traveling or I am out of the house and utilizing a public WiFi access spot.

It protects what you are doing.  Not even the VPN provider can read what you are doing.  Look at a VPN like a pipe that doesn't have any holes in it except for the two ends.  One of the ends is your computer.  The other is the server that you are connected to. All of the information is encrypted in the tunnel so no one can read it.
VPNs allow you to access things that you might not be able to access while traveling.  I have lived in China for the past 3 years.  Could you imagine life without Facebook, YouTube, Twitter, or even Google?  That is right, I said Google.  All of these sites are blocked in China.  So if you are in China and you dont use a VPN then you better start thinking about getting one if you want to access those accounts.
The Good and the Bad
---
Good
This is one of the fastest most reliable VPNs I have found.  Even on the odd circumstance that the connection is dropped, they still protect your data.  Many VPNS drop connections all the time.  When this happens you need to click reconnect and wait for it to reconnect before continuing what you were doing.  With Express, they reconnect automatically and block any attempts to access your information until the connection is re-established.
You can easily change servers without hesitation.  Many VPN companies only allow a certain amount of server changes each and every month.  This can be an issue as ping rates change all the time.  In order to get the best speeds out of your internet connection you want to use the lowest ping rate.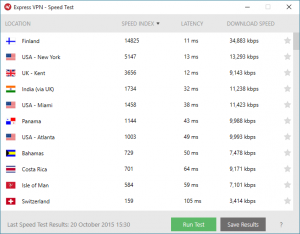 Not only does ping rate matter but so does speed.  The speed test runs a full listing of both ping test and speed test.  This gives you an overall rating for the servers at that time.  That number tells you the best server to connect to at any given time.
You can connect on more than one device at a time.  Many VPN services will only allow you to connect with one device at a time.  Express VPN allows you to connect a computer, or router, and one mobile device at the same time.  I used to think this wasn't that big of a deal but I have found it to be very useful.
From my own personal experience the customer support is the best in the industry.  Being able to access them on a live chat is great.  They walk through the steps in easy to understand stages and stay with you the entire time.  If your chat gets disconnected all you need to do is sign back on to a chat and ask for the service person and they will be right there.
Bad
It is a little bit more expensive on the month to month plan than other VPN services.  To me I look at the service I am paying to get.  If I pay less and cant use the service when I want to then what good is the service.  I am willing to pay a little bit more for the best.
Customer Support
---
This is one of the shinning examples of great customer service.  I had one issue with my connection when the VPN was off.  It worked great when my VPN was on.  I contacted customer support told them what the issue was.  They walked me through the process to fix the issue and within 2 minutes everything was up and running perfect again. It was a breath of fresh air from the email support of some companies.
Who is Espress VPN For?
---
To answer the question of who it is for you really need to take a look at  what it offers you.  It offers you protection and security on your internet, even on public internet connections.  It is also very useful to those people who travel or live outside of their home country.  Many times websites are blocked when you are in another country.  China for example blocks many websites, as mentioned before, a VPN will allow you to access those websites.
---
They have three different packages.  A monthly package of 12.95/mo.  A 6 mo package for $9.99 per month.  A 12 mo package for $8.32/mo.
My Final Opinion of Express VPN
---
If you are looking for a GREAT VPN then this is the one I would chose.  I have used several VPNs over my 10 years of being an expat.  Express has been far and above the best one I have used and has had the fewest problems.
VPNs are an essential part of me working online, especially when living in another country.  I love my express VPN connection.  You can see all of my top recommendations here.
As always if you have any comments, questions or personal experiences please feel free to leave them below.  I love hearing from you.
Disclaimer:
When you buy something from this website, I may receive an affiliate commission. These are my opinions and are not representative of the companies that create these products. My reviews are based on my personal own experience and research. I never recommend poor quality products, or create false reviews to make sales. It is my intention to explain products so you can make an informed decision on which ones suit your needs best.